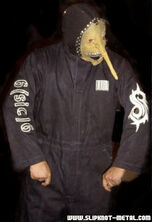 The first Slipknot jumpsuit, as we know, are the ones they are wearing on the cover of the selftitled album are red. Shawn didn't want orange because he said they would look like prisoners. They have worn many colours ,blue,white,red,black,green and even gold. The jumpsuits which came with the self-titled album had a large barcode on the back and a small one on the left chest,and the bands logo, the Tribal-S on the left arm,and their numbers "0,1,2,3,4,5,6,7 and 8" were sometimes placed on the right arm, and sometimes above the tribal-S logo on the left arm. On some of the jumpsuits,the numbers were on the right arm.Below the barcode the number "742617000027" was written, this number is the barcode on the band's 1st album Mate Feed Kill Repeat and it is also the first track on the selftitled album.
Iowa Jumpsuit
The IOWA jumpsuits are not very different from the old ones. Except instead of the barcode they have a goat on the chest and a Tribal-S on the back. Also on the IOWA ones they have a little ribbon on the right hand with the Tribal-S logo on it (kinda like the nazis had). The numbers on the IOWA ones are on the left hand. Also the goat on the chest is in two colours, sometimes it's red and sometimes it's black.
vol.3 jumpsuit
The VOL 3 Jumpsuits have the Slipknot Star logo on the chest where the goat and the barcode were, these

jumpsuits are dark blue and they are really cool! on the left arm appears the Band Members number.