Brandon Darner


Info
Number position
#3 (Former)
Nickname(s)
None
Born
Unknown
Joined
1998
Occupations
Musican
Masks
Hobo mask (1998)
Liar mask (1998)
Brandon Darner is the replacement for custom percussionist, Greg Welts. He didn't stay long and was later on replaced by Chris Fehn.
Him and Shawn Crahan come together in 2004 to release an Album under the band "To My Surprise".
He has produced albums for a wide variety of artists, including Imagine Dragons (Interscope), The Envy Corps (Vertigo), To My Surprise (Roadrunner), etc. Brandon Darner is a founding member of the band The Envy Corps.
Mask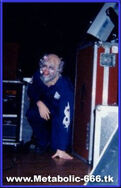 The picture to the left shows Brandon wearing the "Hobo Mask", back when he was just a roadie for the band, before he played percussion. At that time the roadies would (ocassionally) wear masks on stage with the band.
He was the first person to wear the liar mask, later adopted by Chris Fehn. Brandon only wore the (liar) mask for one show when the band needed a replacement on percussion when "Cuddles" left.
This is also supported by the fact that Chris stated in an interview with BryanStars that his mask was already made when he joined the band, and that it was given to him, further confirming that Chris was given Brandon's liar mask after Brandon's departure from Slipknot.